Take a look at these three brands – a beloved retailer, the world's most valuable brand, and a brand that is so inseparable from it's founder.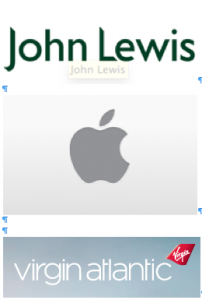 They all now have something in common.  They have been named  as the top three brands that gain most admiration from marketeers, from the recent research by GCUK (Grupo Consultores UK).  These three brand have leapfrogged over rivals such as Coca-Cola, Unilever, Nike, Tesco and P&G.
Criag Inglis (Marketing Director, John Lewis) summed it up susinctly, "Marketeers, like consumers, get excited when brands innovate, deliver on their brand promises and engage on an emotional level."
I think John Lewis may have reached the top for a number of reasons.  The Company's "partnership model" of its 81,000 staff, is one facet of this business that sets it apart in the market place, and ensures that company clearly is in touch with it's consumer voice. But probably the biggest influencer was the brand's Christmas 2011 advertising – you know the one – "For gifts you can't wait to give"  – following a little boy impatiently counting down to Christmas, not to receive presents, but to give them.  What a charming ad, cleverly talking to all parents.  It made John Lewis both accessible and asrpirational in regards to it's positioning. The ad really stood out amongst the usual M&S, Iceland and Debenham's offerings, and delivered, quite simply, the most impactful, memorable Christmas ad.
Admiration and congratulations to John Lewis for this new achievement – a lot of pressure now on the creatives to deliver another sensational Christmas Ad!
Lucy Goaman