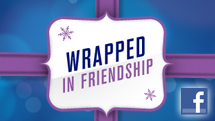 Nivea have just made a giant leap in the mass gifting market.
In a previous life, I was responsible for Gifting at Procter and Gamble, and have since maintained a huge interest in the beauty gifting marketing.
I am really impressed with Nivea this Christmas.
In conjunction with a facebook app (created by Agency Republic), Nivea, with the skincare brand's 'Feel Closer' positioning (created by Draftfcb), have enabled shoppers to make Nivea giftsets a more thoughtful gift.
Consumers can use the app to buy and send a friend a Nivea gift set, which will be wrapped in personalised wrapping paper featuring photos they have both been tagged in on Facebook.
The free wrapping paper will can also include comments they have made on each other's Facebook walls in a strategy that aims to conjure up thoughts the friends have shared and memories of the fun times had together.
The Beiersdorf-owned brand first launched its 'Feel Closer' positioning in August in an attempt to shift brand perceptions and re-engage women.
It hopes to target women aged 30-54 by encouraging the use of Facebook to share "moments of closeness" by uploading photos and liking, sharing and commenting on other people's pictures.
With gift packs ranging from £6 to £13, the campaign offers affordability, but it's the personalized wrapping paper that will entice custom.
During a time when there is concern with the growing commercial closeness of facebook and certain brands, I think Nivea have got this one right.