Whilst Glastonbury Festival is getting ready to go into full swing, another festival is taking the world by storm!!  Can you remember when you last saw a beauty brand launch?  And launch with huge razzmatazz?  The infamous Charlotte Tilbury has her own Beauty Festival in Selfridges this week, as a teaser, ahead of her line "Charlotte Tilbury" launching in September.
A luxe line.  A different line.  A line created by an expert in the trade.  Someone who has worked on nearly every famous face.  A lady who knows how to be different.  For example, when the world is used to Nail Bars, Charlotte introduces Eye Bars.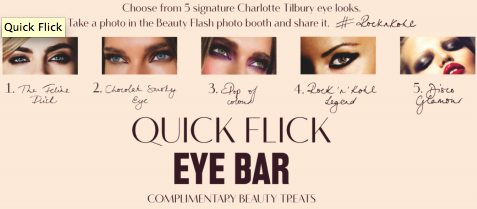 Team Tilbury will be on hand every day this week, in Selfridges, from 10am – 10pm (except 5.30-8pm) to offer free eye looks to anyone who comes to the event.  There are 5 signature looks to choose from:
The Feline Flick (a la Kate Moss)
A Chocolate Smoky Eye (think Sophia Loren)
A Pop of Colour (my inspiration is Jerry Hall and Studio 54)
A Rock 'n' Kohl legend eye (think Rihanna in V magazine)
Or a Disco Glamour (channel the sexiness and sophistication of Paris Vogue)
After being made over, you can have your photo added to the wall of fame.  And one lucky winner on the fame wall will be chosen to model in Charlotte's next You Tube make over tutorial.
 Every day there is a different style of event, and for something quite quirky, on Thursday there is going to be free lipstick readings with psychics in residence, The Psychic Sisters. Who knew that your lipstick print could tell you so much about your psyche and your future..?
Charlotte has a great collection of celeb friends to help support her new brand launch, many will be popping up during the week at Selfridges.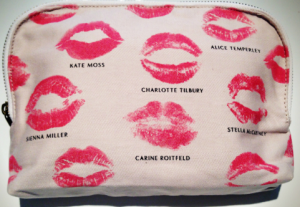 I am loving her new make up bag, endorsed by a few friends!!  All the proceeds from the bag are going to Kids Company.
Looking forward to seeing this brand grow and I am sure it will become a marketing benchmark for many other beauty brands.
http://www.charlottetilbury.com/
Lucy Goaman