Children's Workshops  (July – September 2014)
Six weeks is a long time to keep anyone entertained, let alone your toughest critics. Don't panic, though, for those of you in North Devon, the Burton Art Gallery and Museum has got this year's school summer holidays (24th July – 3rd September) sorted.
Bideford's Burton Art Gallery has just announced their  "Summer School," a huge variety of art workshops, all led by local artists, taking place across the holidays.
The eclectic range of creative activities for young people aged 3 to 11 year olds, and families, in its fully equipped contemporary workshop studio include drop-ins, art workshops and craft courses. Families are also encouraged to explore the gallery and museum using the free and self-guided Burton Family Trail (all ages).
Here is a preview of some of the workshops taking place:
Ghostly Sculptural Gadgets
Tuesday 29th July 10am – 4pm £15 Re-create everyday objects from umbrellas to tennis rackets, using a wire frame and tissue paper. Tour the museum and choose your favourite artefact to produce ghostly replicas.
Mad Mechanical Moving Models
Tuesday 5th August 10am – 4pm £15 Create simple moving models using levers and handles from painted & decorated card and recycled materials – mad, crazy characters of your choosing!
'Up' Cycled Accessories
Wednesday 13th August 10am – 4pm £15 One person's trash is another's treasure, and this couldn't be more true with all of the emerging artists tapping into the creation of upcycled accessories.  Make your own original necklaces, bracelets, bags or brooches from throw-aways!
Ship Ahoy!
Friday 22nd August 10am – 4pm,  £15 Create a ship or seaside scene in a bottle, taking inspiration from Bideford's rich maritime history.
Fat & Flat Fish Wednesday 27th August 10am – 4pm £15. Make colourful 3D paper fish; from sardines to sharks or even a whole shoal, hang your creation from a fishing wire to proudly display at home.
Windsock Whimsies
Friday 29th August 10am – 4pm £15 Create a fun windsock animal, fish or insect that will catch the wind & can fly all the way home with you!
Crafty Kids
Every Monday throughout the summer (except August Bank Holiday) from 10am – 12noon there are simple, fun and effective activities in the Crafty Kids class for under 5's and their families.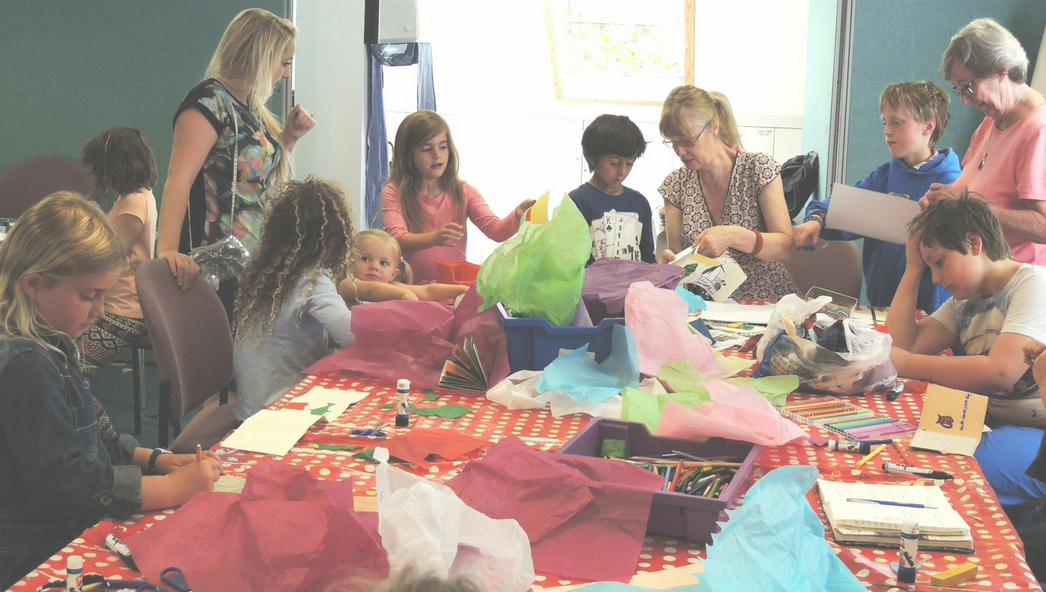 Art Trolley
Out and about in the galleries every day of the school holidays, the Art Trolley is the perfect way to get creative at the Burton.  Free activity for you to enjoy.
Young Friends Art Group
On the last Saturday of every month, local artists run themed arts and crafts workshops. £1 donation per child.
Teresa Turner, Local Artist and on of the Workshop Leaders, said "I am really looking forward to the Summer School.  On Saturday I ran the Young Friends Art Group children's workshop in conjunction with the Heritage Day taking place in Victoria Park.  The children learnt how to make their own book and then designed images across the book in relation to the heritage of Bideford and the surrounding area.  Children included, amongst many other things, Bideford Bridge, Bideford Pots, Hockings ice-creams, Bideford Bay, ships and dolphins.  I was blown away by the children's knowledge of the Bideford area and how they confidently visualized that knowledge in the books that they created.  As always, an amazing display of young artist talent."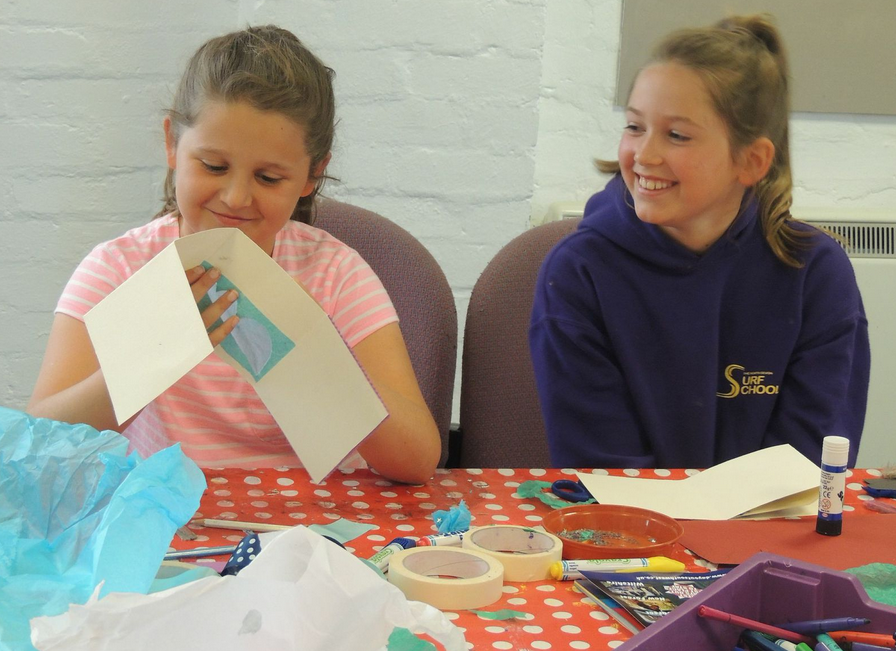 Miranda Clarke, Visual Arts Manager at the Burton Art Gallery and Museum said, "We've got lots of gorgeous summer arts and craft activities for children at the Burton, and I am looking forward to seeing all the creativity from the children in the area, the next generation of artists!" 
So if the rain is beating against the window and you've got cooped-up, bored children on your hands, or if the sunshine has stayed and you need to do something other than a "beach-day," then booking in a workshop at the Burton might be just the ticket!
To book a place contact The Burton on 01237 471455 or download a booking form from
www.burtonartgallery.co.uk.
Venue Contact Details:
THE BURTON ART GALLERY & MUSEUM, Kingsley Road, Bideford EX39 2QQ
(e) burtonartgallery@torridge.gov.uk   (t) 01237 471455 (w) www.burtonartgallery.co.uk
Opening Hours:
Monday – Saturday, 10am – 4pm, Sunday 11am – 4pm.